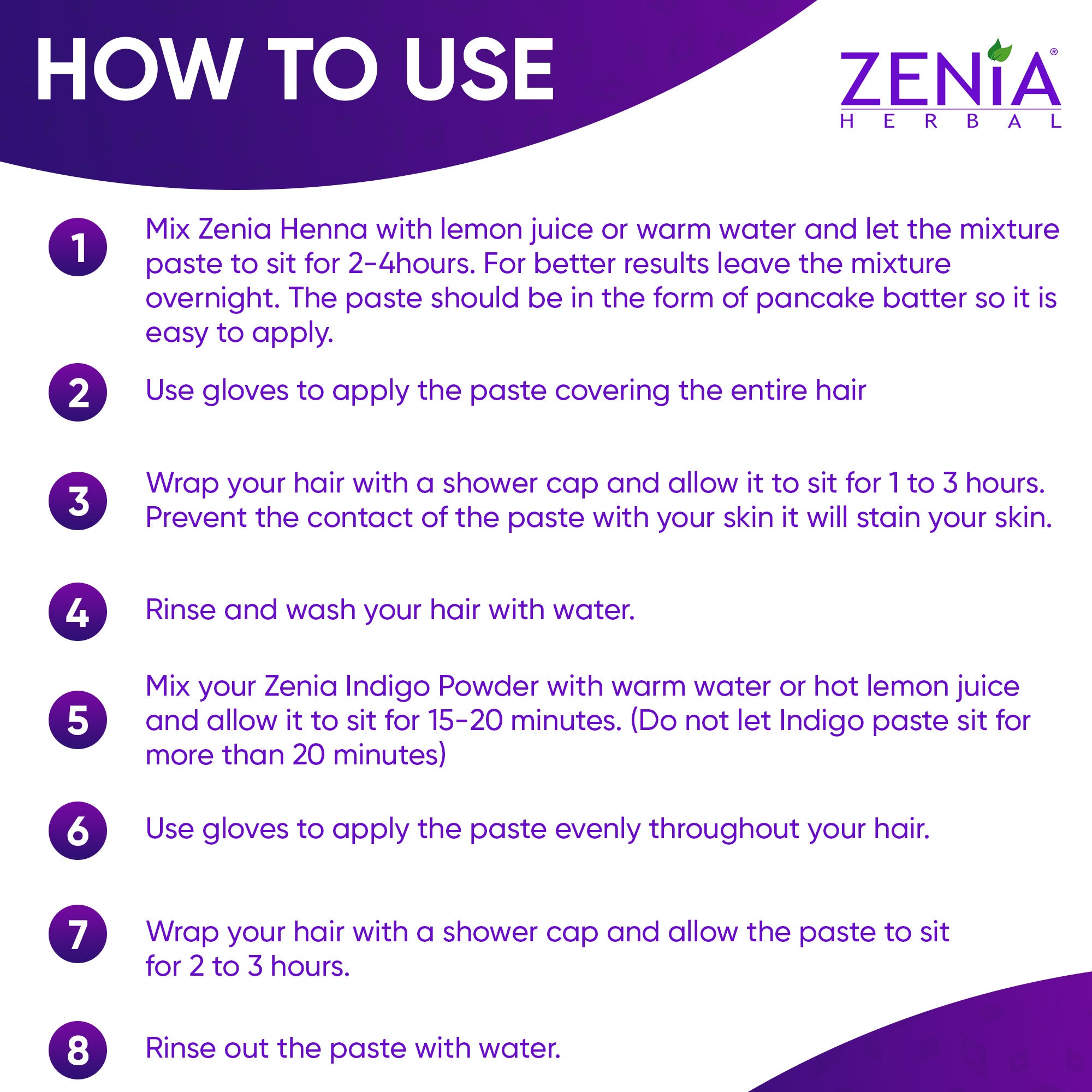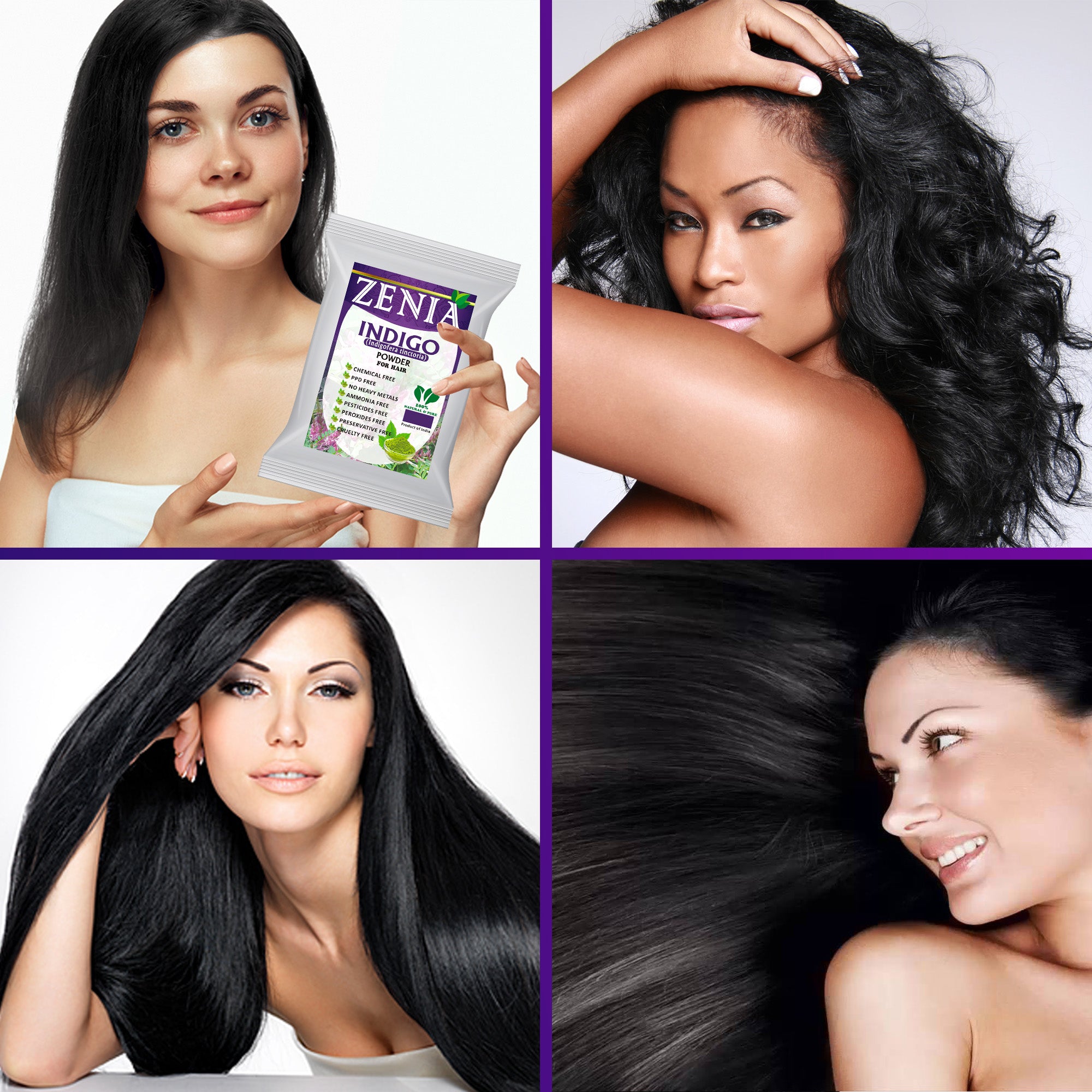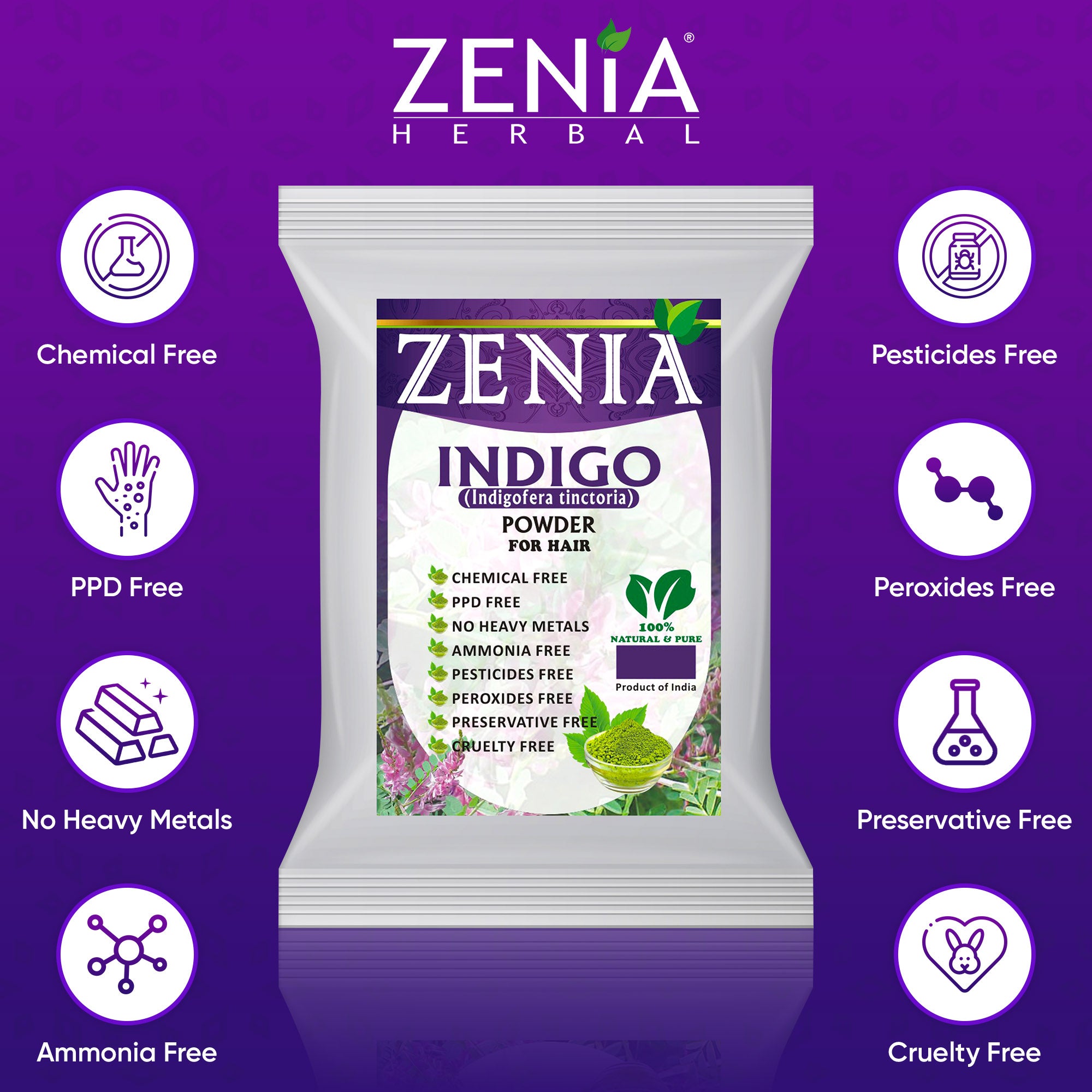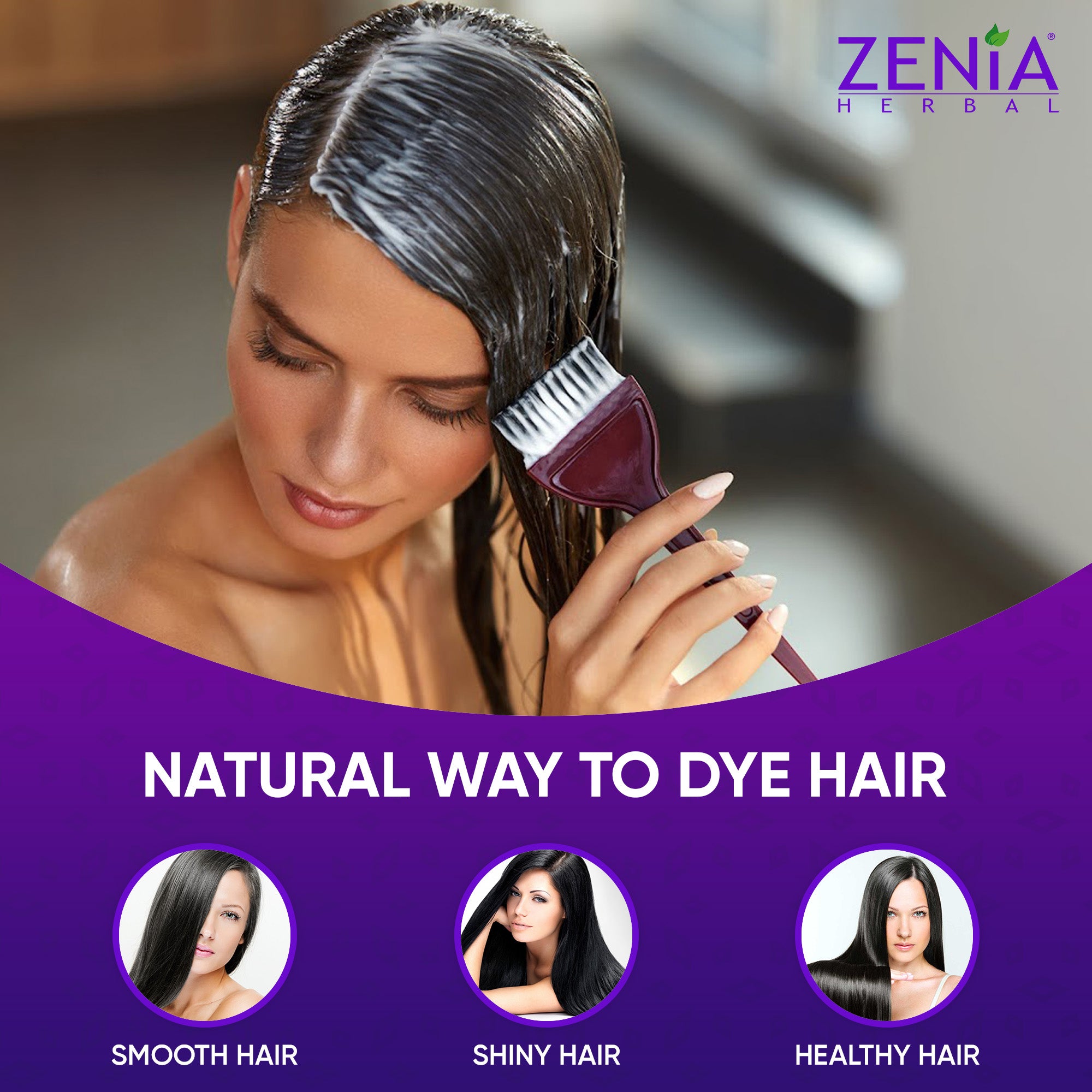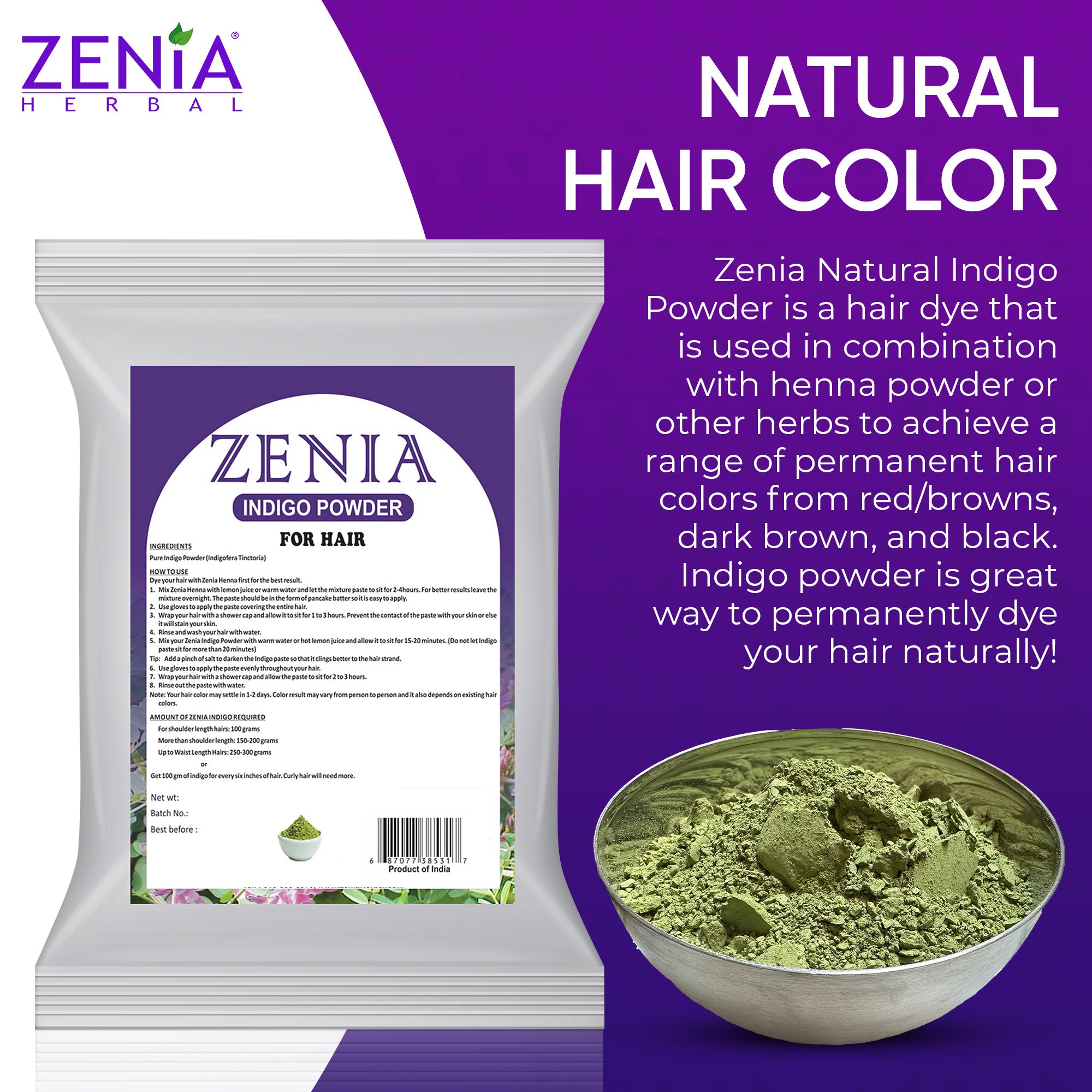 Zenia Indigo Powder Hair & Beard Dye Color 100% Natural Hair Dye 2022 Crop
WHAT IS INDIGO POWDER?
Zenia Natural Indigo Powder is a hair dye that is used in combination with henna powder or other herbs to achieve a range of permanent hair colors from red/browns, dark brown, and black. Indigo powder is a great way to permanently dye your hair naturally!
IMPORTANT NOTE: Indigo USED ALONE will not effectively dye your hair. Indigo powder must be used after or in combination with high-quality Henna Powder. We recommend using Zenia Pure Henna Powder. This listing is for Indigo Powder only. Henna is sold separately in our store.
WHY CHOOSE INDIGO POWDER? 
You can dye your hair beautiful black, and cover your gray hair to black with pure henna and indigo, without paraphenylenediamine or any other chemicals! This is white hair dyed with henna, a combination of henna and indigo together, and indigo over henna. Many companies sell "Black Henna" which is most of the times not pure or safe to use. Indigo has been used for centuries to dye hair black or other colors by mixing with other herbs such as henna, amla, and cassia obovota. Indigo is not only used for coloring hair; it provides hair softness and shine. 
  
How to use Indigo: 
Dye your hair with henna first for the best result.
Mix ZeniaⓇHenna with lemon juice or warm water, and let the mixture paste to sit for 2-4 hours. The paste should be in the form of pancake batter so it is easy to apply.
Use gloves to apply the paste covering the entire hair.
Wrap your hair with a shower cap and allow it to sit for 1 to 3 hours. Prevent the contact of the paste with your skin or else it will stain your skin.
Rinse and wash your hair with water.
Mix your ZeniaⓇ Indigo Powder with warm water or hot lemon juice and allow it to sit for 10-15 minutes. (Tip: Add a pinch of salt to darken the Indigo paste so that it clings better to the hair strand.)
Use gloves to apply the paste evenly throughout your hair.
Wrap your hair with a shower cap and allow the paste to sit for 2 to 3 hours.
Rinse out the paste with water.
Note: Your hair color may settle in 1-2 days. Color result may vary from person to person and it also depends on existing hair colors.
Warning: Our indigo powder is 100% natural and does not contain any chemicals, however, people may still be allergic to certain plants and natural products. Please do a skin/strand test before full application of Indigo Powder
$4.99
$9.99
you save $5.00